What is Feedback Based Voucher Add-on in Gleeca?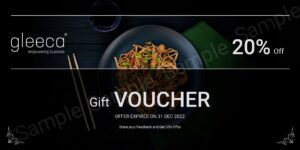 Getting your User Data is complex as handling normal restaurant operations is time-consuming. So we are introducing this Add-on to automate the user data gathering process and motivate your customers to revisit your restaurant repeatedly by making them redeem a discount voucher during their next visit.
Once you enable this add-on, the admin can configure the offer such as discount percentage, minimum order value, order type (Dine-in, Take away, Pickup, etc.), maximum discount value, and coupon expiry date. Also, you shall create the questions to capture feedback in less than a minute. In addition, every bill will have a unique URL with offer information.
When users submit their feedback, they will get an email containing a voucher code, offer details, and expiry date. Then, they can redeem the voucher during their next visit. If a user did not use the voucher, our system will auto notify them when the coupon is about to expire. These notifications will create a sense of urgency to get the voucher benefits from your restaurant. Hence the success rate of getting repeat visits from your customers is high.
The best part is the cost. You are getting all those benefits for just Re.1/voucher. So why are you waiting? Activate this add-on today and start getting new customer data and repeat orders from your customers. If you aren't using Gleeca, then it's time to signup to accelerate your restaurant business with the most powerful restaurant management system.
Note: This add-on is set to launch in May 2023, stay tuned for more valuable updates.